Jae Johans
Author and illustrator of "Sneezing's Greetings"
Today I'm interviewing Jae Johans, the author and illustrator of the hysterical holiday story, "Sneezing's Greetings."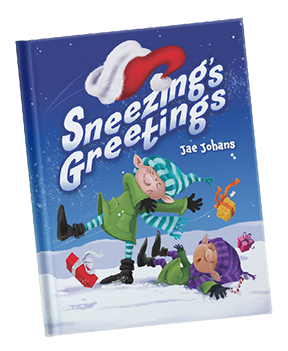 KIT: Hey Jae, how did we meet?

JAE: Kismet? Serendipity? Karma? 


I'm not sure, but I do remember you rather rescuing me at a portfolio event at the SCBWI conference. I was standing there all alone, rather shy about approaching strangers, when you walked up and started talking to me. After that, the conference improved 100%.


KIT: You were the only person I met who wanted to laugh as much as I did. "Sneezing's Greetings" sounds like a covid plague book. What's it really about?

JAE: Ah yes, that was my fear putting the book out now. I've had the story in my head for years and sadly, needed the pandemic to have the time to finish it. It's a Christmas book, if that isn't obvious by the title, and it's about a Christmas that almost doesn't happen because Santa has a major allergic reaction to something on his sleigh.


KIT: Ah jeez, Santa sneezing all over the toys. Somebody grab the sanitizer and put that jolly elf in a mask.