Meet Kit Oz
I live in the mossy lands of the Pacific Northwest, surrounded by slugs and ferns.
I wrote 29 novels for adults (under the name Lisa Cach), sold over 300,000 copies, and had books translated into 12 languages. But people change, people grow, people need new challenges. I decided to change course, and write and draw for kids in the 7-12 year age range. It sounded like a great way to combine everything I knew about writing with my long-time interest in art.
As a child, I produced no works of art worth saving. I was no child genius with the Crayolas, and no teacher ever said nice things about my finger paintings. My attraction to words was far stronger than my attraction to drawing, and I was also under the mistaken assumption that artists are born, not made.
A lot of people make that mistake.
Here's something I did at 14, to illustrate a biology project about an imaginary frog-bat creature:
And yet, despite having made only bad art, I took art classes in college, and kept taking them in the years after graduation.
From a life drawing class:
Slowly, drawing by drawing, I became an artist.
Here's my entry for the Historic Seattle Art Show; it was a juried show, which means you have to apply to get in.
(Weird picture, huh? It's a joke about something local to Seattle. You can see the explanation here.)
I've traveled the world to both teach, and to research settings for books. I taught English in Japan for a year, and taught creative writing on two long cruises around the Caribbean, up the Amazon River, to Morocco and around the Baltic and Mediterranean Seas.
I hiked the Himalayas in Nepal, keeping an eye out for a yeti but never seeing one; roamed Transylvania, but never spotted Dracula; and ventured deep into ancient caves in France, where I saw the world's oldest art upon the walls: pictures of animals that were painted over 30,000 years ago. I still can't get over how beautiful that cave art is.
My version of cave art… a "Wall of Corgis":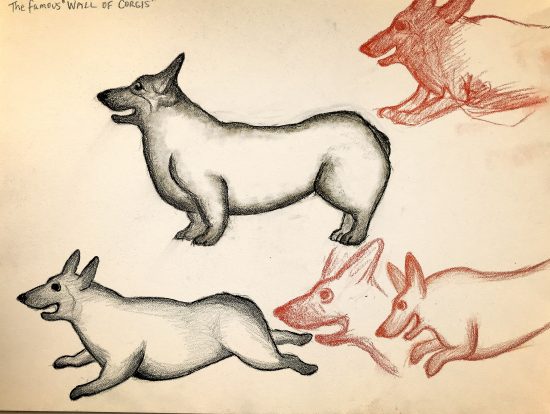 I also sailed the Caribbean on a research schooner, which sounds like much more fun than it was: I spent a lot of time pumping the boat's bilge and getting seasick. The best times were at the wheel of the sailboat, when I could sing sea shanties and pretend to be a pirate.
My education includes a B.A. in English Literature, an M.A. in Counseling Psychology, and a Certificate in Natural Science Illustration from the University of Washington.
From my studies in the Natural Science Illustration program:
A flowering pear branch, covered in moss and lichen:
I keep trying new things with art, and often start a work in traditional media like ink, or colored pencil, and then finish it digitally. Like this piece, called "Spring, 2020."
Almost by accident, I started painting oyster shells with nature scenes, and then ended up selling them in the shop at the Seattle Art Museum. You can read about that here, or look into buying a shell here.
And then I started making designs for fabrics for Spoonflower. Because why not?
And a ceramicist in Ohio contacted me about designing some blue and white nautical tiles, so I did that, too.
Sooner or later, I'll get back to illustrating "Saving Scrumpy," the book I wrote about an autistic dog on a Caribbean island, who solves a mystery and saves a fellow dog from a death sentence. The tiles, shells, and fabrics may look like detours, but are they? All art done improves one's skills. With each drawing or painting or design, there is growth. When I get back to illustrating the book, I will be a better artist than I was before the tiles, and fabrics, and oyster shells.
My goal of writing and illustrating for kids has lead me down creative side paths to unexpected destinations. I'm beginning to think it's never really about reaching one's goals, but more about thoroughly enjoying the journeys.
If there's anything else you'd like to know, you can send me a note using the Contact link at the bottom of this page.